Prepare yourself. A Donald Trump chatbot is about to be unleashed.
Prepare yourself. A Donald Trump chatbot is about to be unleashed.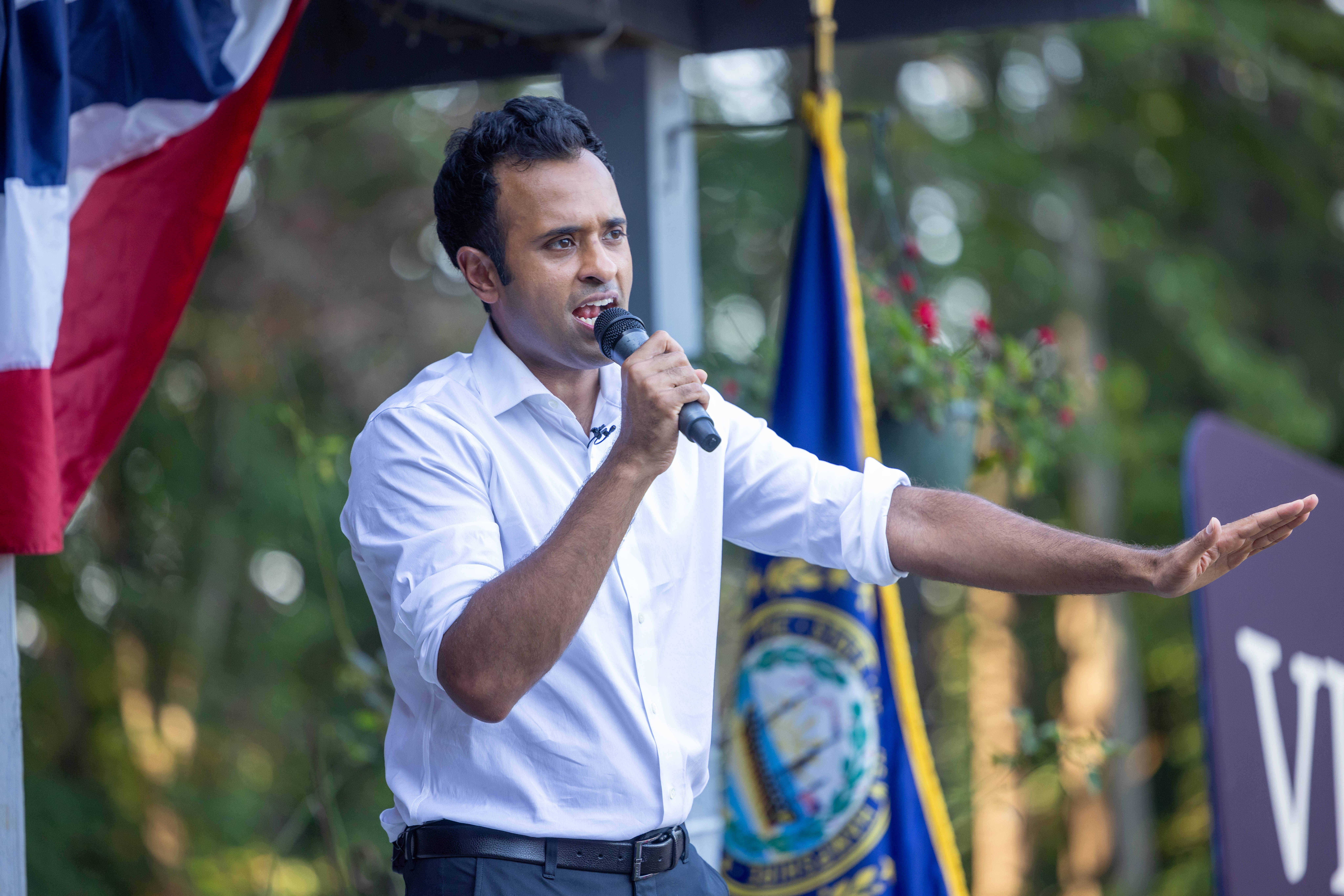 Watch out! The AI "clones" of politicians are coming. And they're not half bad.
In June, the AI avatars of Joe Biden and Donald Trump engaged in a marathon session of profane trash-talking broadcast on Twitch, offering a surreal glimpse at one potential future of political debate. Then a super PAC supporting the (since-scuttled) presidential bid of Miami's mayor launched an AI Francis Suarez bot to answer voters' questions, which offered a more polished vision of a politician's avatar.
Now a project called Chat2024 has soft-launched a much broader multi-candidate platform — a slick, Silicon Valley venture-backed version of what has so far just been a set of lighthearted experiments.
On Wednesday, the project will officially unveil the AI-powered avatars of 17 leading presidential candidates. Each one is a chatbot trained on reams of data generated from at least a hundred sources, like candidates' video appearances and writings. Users can query the bots individually, ask the same question of all 17 at once, or set any two of them against each other in one-on-one debates directed by user input.
Based on DFD's preliminary testing of the avatars on Chat2024.com, which has gone live ahead of the project's official launch, the bots aren't exactly the AI overlords that some tech critics fear could soon rule humanity. But credible AI replicas of society's would-be leaders do amount to a step in that direction.
The project is a creation of Dara Ladjevardian, the co-founder of AI startup Delphi, which is designed to create AI avatars of anyone, not just politicians (tagline: "clone yourself").
The project amounts to a PR stunt for Delphi's services, of course, but Ladjevardian — who studied computer science at Georgetown — argues it that it offers civic value, too. He thinks AI avatars have a prominent role to play in the future of campaigning, governing and public opinion-tracking.
He said the project was inspired by his experience knocking on doors in the Houston area to support a losing congressional bid by his mother, Democrat Sima Ladjevardian, who ran to unseat Republican Rep. Dan Crenshaw in 2020. He found that most voters learned about candidates from snippets of television coverage, and argues that chatbots provide a more engaging, in-depth alternative. He hopes the presidential bots will attract the attention of campaigns up and down the ballot and entice them to pay to host the avatars on their own websites.
In addition to providing campaigns with a new way to show off their candidates, Ladjevardian said he intends to sell them on the idea that they can analyze the queries voters send to chatbots to better understand public opinion.
So … how'd they do? Based on our short interactions, their imitations of the candidates are pretty good.
The Cornel West bot evokes the flowery rhetorical style of the Green Party candidate, beginning its response to a question about a potential spoiler role with "My dear interlocutor." A culture war question to the Desantis bot elicited a vow to "wage a war on the woke."
Set to debate against each other, the bots often draw accurate contrasts with their opponents, though (like many of their real-life counterparts) their back-and-forths tend to devolve into repetitions of the same few talking points until a human moderator intervenes to guide the conversation forward with a new question.
In a debate I set up between the two leading candidates, the Biden bot invoked his "career fighting for the middle class" while the Trump bot boasted, "I've seen it all, I've done it all."
When the two pet candidates of the very-online tech world — Vivek Ramaswamy and Robert F. Kennedy Jr. — were set against each other to debate tech policy, the Ramaswamy bot pointed out that unlike his opponent, he has founded a tech company while Kennedy linked his support for free speech to the open values needed to nurture innovation.
The bots haven't yet achieved a perfect imitation. While the livestreamed Twitch debate and AI Suarez both included AI-generated visual avatars, Chat2024 is currently text-and-voice-only.
The AI voice generation feature, which reads responses aloud, captures something of Ramaswamy's dramatic cadences, and Kennedy's gravelly voice, but AI Kennedy raced through its spoken answer at an unnaturally fast clip.
Ladjevardian said his team is monitoring the progression of AI-generated video to determine when it will become advanced enough to generate visual avatars. "It's almost at the creepy point right now," he said. "It's not good enough where it feels realistic."
One thing the avatars clearly share with real-life politicians: a capacity to contradict their own previous public statements.
Asked to debate social media policy, the AI Kennedy defended the right of social platforms to refuse to publish content as they see fit, even though the flesh-and-blood Kennedy called on Congress to prohibit censorship by platforms in June testimony before the House.
The project touts its ability to provide sourcing for its bots' statements, but two days before official launch, the in-line citations to sources brought up empty dialog boxes in debate mode. In one-on-chat mode, however, users can view the sources behind the responses, which, in DFD's testing, consisted overwhelmingly of YouTube videos featuring the candidates.
Ladjevardian said that Chat2024 manually compiled media reports and text created by the candidates to provide training data for the avatars. Soon, he said, the software behind the avatars will be able to automatically monitor the internet for new content and add it to the training data.
He said the bots rely on several different models — including ones from OpenAI, Hugging Face, and Anthropic — to perform different functions, like determining a question's intent, providing context and engaging in reasoning.
While candidate chatbots are still vulnerable to the classic political charge that they "lack authenticity," Chat2024 illustrates just how rapidly the gap between the most charismatic AI bots and the most wooden human politicians is closing.
And based on the current clip of development, Ladjevardian predicted that the artificial imitators will improve drastically by Election Day 2024. "These things are going to figure themselves out very fast," he said.
Like this content? Consider signing up for POLITICO's Digital Future Daily newsletter.
Powered by WPeMatico